THE FIGHTIN' 311 TOMCATS
GEORGE AND JACKIE PHANDER JIM AND SUE GALCHICK CECIL AND CHRIS CHEEKA
3032 POTSHOP ROAD 1290 E. 12TH ST. 2207 LILAC ST. S.E.
NORRISTOWN, PA 19403 SALEM, OH 44460 LACEY, WA gphander46@comcast.net jgalchick@neo.rr.com ccheeka@comcast.net
610-584-5654 330-337-9383 360-352-7227
OFFICIAL WEB SITE: http://www.vmfvma311reunion.org
WEBMASTER:FRED TOWNSLEY

805 PRICE AVE, CHANDLER, OK 73834, 405-2580532

EMAIL: oldsargfred@gmail.com
MEMBERSHIP COMMITTEE CHAIRMAN: CHARLES "RALPHIE" REED
14 BRENTWOOD ROAD, KINGSTON, MA 02364 EMAIL: cread1@comcast.net
````````````````````````````````````````````````````````````````````````````````````````````````````````````````````````````````````````````````````````````
NEWSLETTER JULY 2018 EDITION
RUNION 2018 22-26 AUGUST CHATTANOOGA, TN
We're down to the ninth inning. Reunion time will soon be upon us and it's all shaping up according to plan. In the beginning it looked a little shaky but it smoothed out and we're going to have a good reunion. Weather down in Tennessee is going to be warm and hopefully all hurricanes will mind their manners and stay out in the gulf and the Atlantic Ocean.
Anyone who wishes to attend, you still have until 1 August to get me your information so we can take care of the paperwork before the reunion. The caterer and tour people want to be paid for numbers prior to the reunion so it's imperative that you call by the first if you want to attend. We can settle up money wise down at the reunion but I have to have the numbers.
At the auction on Friday night we raise money to keep the group going for another couple years and possibly send some money out to help out the VMA-311 Family Assistance Group as we have done in the past. Most of you are aware from previous auctions that our more than adept auctioneers, Ralphie Read and Jim Davis , are capable of selling anything . If you have something you want to unload or many things you want to unload bring them in and we'll sell them off (does not include children or in-laws). The auction has proven to be a great deal of fun. You even get to eat half way through the auction.
Saturday night is our banquet. Dress code is there is no dress code. Come in what makes you comfortable. There will more than enough food to eat and we'll offer up the mike to anyone who wants to talk.
I would be remiss if I didn't thank everyone at this time for their loyalty and hard work to the existence of this group. Looking down the reunion roster many of us have been together for since we took over the group 22 years ago. Through your participation and work we have been able to keep the TOMCAT spirit alive and kicking. There are a younger group out there that are continuing to meet and that's a good thing. I'm sure that many of us never paid much attention to the history behind the 311 while we were there. I always revert back to our reunion in Arlington and the Squadron XO read a paper that was produced to evaluate all Marine squadrons peace time and war time. And the 311 came out on top. We have a great history. I remember one incident in Chu Lai and I think it was spring 68. We were on the line 24 hours non-stop loading and launching aircraft as fast as we could turn them around and after it was all over I remember thinking "What the hell did we just do?" And at that time I thought the squadron did something special and I got to be a part of it. No matter what time it was, all of us were part of something special peace time or war time doesn't make any difference. The 311 is special and it's our honor to have played a part in it's history.
Many thanks to my friend, Fred Townsley, for continuing to maintain the web site. Over the years Fred has been a "computer genius" to my "Computers for Dummies". In Pensacola 2016 Fred was all ready to transfer the web page to another young guy but that didn't pan out and he stuck with it for these last two years. I keep thinking of the movie "Perfect Storm" where they were trying to get out of the storm and George Clooney said to Mark Walberg "It's not letting us out." I know that it's only a matter of time when things will necessitate Fred retiring. So if this be the year, many thanks for the years of dedication.
NEW ALUMNI
EDWARD "NICK" RUSSELL 7 Riverwind Drive, Port Roal, SC 29935
1964-65, Chu Lai, Line Chief/QC
CHUCK GAUTHIER 14014 Moss Lake Drive, Lac du Flambeau, WI 54538-9775
1967-68, Chu Lai, MOS 6043
VERN SCOTT 1821 Los Logos Circle, Lake Havasu City, AZ 86403
906-869-2918, vernscottpsg@yahoo.com
1968-69, Chu Lai, Ordnance/OPS
TOM EVANS 4004 Dixie Lane, Bardstown, KY 40004
1967-68, Chu Lai, Hydraulics
ED CARTOWSKI 1500 Brecknoch Rd., Apt. 156W, Greenport, NY 11944
1950-51, K-3, Pilot
LARRY DAVIS PO Box 2735, Blairsville, GA 30514
1976, El Toro, Avionics
DON PIIRALA 277 S. Baldwin Rd., Oxford, MS 48371
1969-70, Chu Lai, Flight Line/ Check Crew
WILLIAM STEINER 5128 Arabian Run, Indianapolis, IN 46228-2096
317-328-787, dsteiner@purdue.edu
1964-66, Chu Lai, VMA-223,224
ADDRESS CHANGES
KIRBY SCHNELL 13940 Lacey Blvd., Hanford, CA 93230-9440
STEPHEN GAUGHAN 1425 Main St. Apt. 4F, Cincinnati, OH 45202-7654
LOST IN THE MAIL
DAVID ADELMAN TALLAHASSEE, FL
TOMAS GARZA AUSTIN, TX
SAM RIEL BELPRE, OH
ROBERT SOFGE FALLS CHURCH, VA
CARL WHITLOCK VILLA RICA, GA
DONATIONS
We thank all those who have donated to the group since last newsletter: DONALD DOUGHERTY MEMORIAL DONATION; CHUCK VINCENT (1952) GULFPORT, MS; GEORGE SCHREINER (1952-53) ROSCOE, IL; BILL BURG (1965-66) WHITEFISH, MT; RICHARD AREHART (1966-67, 1969-70) ZENIA, OH; ED STEPNOWSKI (1966) NAPLES, FL; AND JERRY BRADLEY (1964-66) ST. PETERS, MO.
TAPS
GARY COLBY GYSGT (RET), HILL CITY, SD, 13 MARCH 2018, Chu Lai, ORDNANCE
SYLVESTER FINNER 1965-66, CHU LAI, PILOT, LAKE FOREST, CA.
THOMAS MANNING CHU LAI, 1967-68, ORDNANCE, 12 DEC 17 in BOCA RATON, FL
CLINT PARRISH ENGINE MECH, CHU LAI, 1977 ACCIDENT
RICHARD SERFILLIPI NO INFO AVAILABLE
KIM SUTTON 1967-68, AVIONICS
Names will be read at the memorial service in Chattanooga.
EMAILS…LETTERS….AND OTHER THINGS
This email slipped through the cracks on the last newsletter. It was an answer to an inquiry by Kim Sutton's widow, Toni, to locate those who might have known her husband.
RONALD JANICKI, 1967-68, WOODBRIDGE, VA: "In the December newsletter I just received and read there is a request from Toni. F. Sutton seeking information about her recently deceased husband, Kim G. Sutton. The info she included matches with what I and 2 others included in this email (Gary D. Clemons and Harry R. Schlegal) recall. We were in Chu Lai in VMA-311 Avionics from June '67 approximately until April 1968 and lived in the same hut. Over the years we tried to find Kim's whereabouts and several others from our hut but with no success. All the info Toni provided sounds like the Kim we knew and served with. We all went our separate ways after Chu Lai and unfortunately most of us lost contact with each other.
Ill follow up with a photo we used as a "Christmas Card" under a separate email after I find it and scan it. Would really love to hear more about Kim and his life after Vietnam from Toni if she's willing to share and I (we) regret his passing. He was a really good guy!"
There is an upside to this. Toni Sutton recontacted the group and Ron Janicki and they were able to exchange information about her husband.
EDWARD "NICK" RUSSELL, 1964-66, PORT ROYAL, SC: "I was not a pilot. I joined 311 in 1964 at El Toro. I was a Staff Sergeant and was their line chief. I also worked in quality control. 311 was scheduled to deploy to Japan for a 13 month tour and we knew we were going to Vietnam. I landed in Chu Lai on a C-130, as the rest of the squadron in the beach like the "old Corp" earlier. This was the first of 1965. In December of that year the squadron was directed to go back to Japan for three months and then return on station. I was selected at that time for the 1966 Warrant Officer Class, and left the squadron.
Sign me up as a member of the group. Thank you and God bless you all."
AMANDA GUILLORY VMA-311 FAMILY READINESS OFFICER, YUMA, AZ: "Thank you for your email. I'm not a new FRO, my name changed after I got married (from Robinson). I'm sorry I didn't think to let you all know. Would you mind including this email (amandaj.guillory@gmail.com) in your distro list when you send out the newsletter? My government email removed the attachment. Otherwise, I can be reached at this email for any other correspondence. Phone: 928-269-6137 or check us out on Facebook "Marine Attack Squadron 311"
Dateline February 1975: Upon returning from carrier qualifications the squadron deployed to Roosevelt Roads to participate in Operation Rum Punch '75 fine tuning air/ground operations. After returning to Beaufort Lt.Col. Dorsie D. Page, Jr. took the reins of this proud and historic squadron on 20 June 1975. When "Flags of our Fathers" came out as a movie I'm sure that many Marines went and saw it. I also read the book. James Bradley, son of John "Doc" Bradley spearheaded each and Clint Eastwood made a movie out of it. Great movie and sad in its own way. The story goes that a Marine named Harold Schwartz had told one of his family members that he was a flag raiser and she asked him why he never said anything to which he replied" I just did my job." She contacted a private investigator who amassed a ton of pictures that were taken that day on Mount Suribachi. He proved that the Marine that is in the picture that Joe Rosenthal took is not John Bradley. He took all his evidence to Marine historians who perused the findings and did indeed agree that the Marine who represented John Bradley in the Photo and on the memorial is indeed a Marine PFC named Harold Schwartz.
In all the pictures taken they found that Harold Schwartz was a rifleman and his rifle had a rifle sling that was moved up beyond the stacking swivel. His pants were rolled down and the cartridge belt had wire cutters and things that a rifleman would carry. Doc Bradley, as a corpsman, carried two D2 bags with medical supplies a knife and a .45 pant legs rolled up. Doc Bradley may indeed have been on the first flag raising but the proof it was clear that he was not in the Joe Rosenthal picture.
I believe that when Rene Gagnon was pressured to come up with some names so he named Doc Bradley. I believe that when they confronted Doc about this while he was in the hospital he said he wasn't the one in the picture and they said, needing for some heroes at that time, for the good of the country and Corp yes you were one of the flag raisers. Half of the named others we dead and they needed some bodies.
It was noted that in the film and book that whenever Memorial Day rolled around that they would try to get Doc Bradley to participate and he would have his kids tell them he was fishing in Canada. Maybe the Doc had had enough of taking credit for something he knew he had not been a part.
The Marine Corp in all its credibility to be historically correct said that the mistake had indeed been made and PFC Harold Schwartz would be given his proper due. Not taking anything from Doc Bradley who was rightfully awarded the Navy Cross for his action on Iwo Jima. The Marine Corp historians went on to say that the names of the Marines are immaterial. The monument is a testimonial to the Marines and to the adage "Uncommon Valor was a Common Virtue".
Those of you who get magazines from the VFW and American Legion read the stories about the 1968 Tet Offensive. They did a swell job. It was good reading. But…oops…no mention hardly at all about the rotor or fixed wing assets involved. I brought this to their attention in a lengthy email that air assets were performing above and beyond prior to and after the offensive. 311 lost two A-4s over Khe Sahn and I went on to say that VMA-311 arrived in Vietnam 24 May 1965 and departed 29 January 1973 after 54,625 combat sorties. My bragging never prompted a reply or was never inserted in the feedback in subsequent issues. Over the years there has been very little written about the aviation assets that served with distinction in Vietnam. Well, we know what we did I guess.
I was just talking to my sister and we were discussing what was to become of my dad's military uniform when he goes. He is still doing good at 94. I said I'm taking mine with me. I got my Marine blouse and Army blouse dry cleaned and ready to go. My dad could wear his uniform his whole life which he did on Memorial Day. I think a lot about who is going to want all the military stuff I collected not only from my 27 years in but all the stuff I collected from this group for the past 22 years. The 311 stuff I decided will go to the Marine Archives in Quantico. First Sgt. (my wife) has orders to do so. The thought of a bunch of my things ending up on EBAY is too much to contemplate.
I wanted to make sure that I got a newsletter out before the reunion. Still got a couple weeks before 1 August deadline. Join us if you can. If not, keep in touch with the group.
Semper Fidelis
Jim Galchick for the Reunion Assn.
TOMCAT AIR…ON TIME…ON TARGET
DATELINE: JANUARY 1961: VMA-311 BEGAN BY ENTERING THE FINAL PHASE OF PREDEPLOYMENT TRAINING—CARRIER QUALIFICATIONS. ON 16 JANUARY, AFTER 4286 FIELD MIRROR LANDINGS AT EL TORO, THE TOMCAT PILOTS WENT ON BOARD THE CARRIER USS ORISKANY FOR DAY/NIGHT QUALIFICATION PHASE.BY THE 8TH OF FEBRUARY THE PILOTS HAD COMPLETEDTHE REQUIRED NUMBER OF "CAT SHOTS" AND "TRAPS" WITHOUT A MISHAP. IN TOTAL THE SQUADRON LOGGED 843 LANDINGS ON BOARD THE ORISKANY WITHOUT SO MUCH AS A BLOWN TIRE
MARCH 2018 EDITION
***************************************************************************************************************
CHATTANOOGA REUNION 2018
HOLIDAY INN AND SUITES
434 CHESTNUT ST.
CHATTANOOGA, TN
RESERVATIONS: 423-777-5858 GROUP CODE: VA311
ALL THE BAGS ARE PACKED AND WE'RE READY TO GO. WE'VE MAILED OUT THE REGISTRATIONS TO THOSE WHO WERE IN PENSACOLA AND TO THOSE WHO HAVE REQUESTED THEM. THIS NEWSLETTER WILL CONTAIN THE SAME INFO AND FRED TOWNSLEY WILL ADD IT TO THE WEB SITE (SEE WEB SITE CHANGE). WE'VE POSTED IN A NUMBER OF PERIODICALS SO WE COULD GET THE WORD OUT AND MAYBE ROUND UP A FEW NEW TOMCATS FOR THE FOLD.
THIS WILL MAKE 22 YEARS WE HAVE BEEN AT THE HELM AND WE KNOW THAT THERE ARE YOUNGER MARINES FROM 311 WHO MIGHT BE WILLING TO TAKE OVER THIS LEADERSHIP. IT'S BEEN A GREAT RUN AND WE ARE MORE THAN WILLING TO STEP DOWN AND MAKE WAY FOR SOME FRESH IDEAS. WE HAVE RUN THE GROUP A CERTAIN WAY BUT, WHOEVER WOULD TAKE OVER COULD MAKE IT THEIR OWN AND CHANGE THE FORMAT.
WHEN WE TOOK OVER WE KNEW NOTHING ABOUT HOW TO RUN A REUNION. THE INTERNET WAS GETTING BIG AT THE TIME AND IT WAS EASIER TO TRACK DOWN MARINES FROM 311 THAT SERVED FOR THE LAST 70 YEARS. WE WERE GIVEN A SHORT ROSTER OF WWII ERA, KOREAN WAR ERA AND A SMATTERING OF VIETNAM ERA MARINES. FROM THAT WE CONTACTED THOSE WHO WE KNEW AND THEY IN TURN CONTACTED SOMEONE THEY KNEW AND IT SNOWBALLED FROM THERE. WE ADDED THE WEB SITE AND NEWSLETTER. IF YOU'RE GOING TO HAVE SOMETHING YOU HAVE TO LET THE MULTITUDES KNOW IT'S THERE. WE MANAGED TO PUSH THE ROSTER UP TO ABOUT 400 AT ONE TIME. IT'S NOW JUST OVER 325 AND SHRINKING. REASON IS OBVIOUS…WE'RE GETTING OLD! TO STIMULATE THE ROSTER OUR MEMBERSHIP COMMITTEE HAS BE WORKING THROUGH "TOGETHER WE SERVED" AND OTHER PLACES TO ROUND UP SOME FRESH BLOOD AND GET THEM INVOLVED. IT'S A PROCESS IN ITSELF.
WE WOULD BE REMISS IF WE FAILED TO MENTION ALL THE GREAT HELP WE HAVE HAD OVER THE YEARS. PLANNING IS ONE THING, PULLING THINGS OFF IS ANOTHER. TO THE MARINES AND WIVES WHO CONTRIBUTE SO MUCH WE OWE A DEBT OF GRATITUDE. THROUGH THEM OUR GROUP CONTINUES TO PROSPER AND REMAIN INTACT.
A LITTLE ABOUT THE BUS TOURS. SWEET MAGNOLIA TOURS CHARGES BY THE HEAD AND CAPACITY. THE PRICE QUOTED IN THE REGISTRATION IS BASED ON CAPACITY 36-54 PASSENGERS. LESS THAN 36 THE PRICE GOES UP $13.00 AND MORE THAN 54 THE PRICE GOES UP $10.00. WE SEEM TO BE ABLE TO FILL UP ONE BUS FOR SURE. IF NEEDED AND WE GO OVER ONE BUS LOAD WE ARE GOING TO HAVE TO COLLECT SOME EXTRA MONEY REUNION TIME. IS WHAT IT IS.
2. WE SCHEDULED THE REUNION A LITTLE EARLIER THAN WE NORMALLY DO. WEATHER SHOULD BE GREAT BARRING FLOODS, HURRICANES AND FREAK SNOW STORMS. THIS REUNION IS A COUPLE WEEKS BEFORE SCHOOL STARTS IN A LOT OF PLACES AND IT MAY GIVE THE YOUNGER MARINES WITH FAMILIES A CHANCE TO VACATION IN CHATTANOOGA. WE TRY TO BE AS FAMILY ORIENTED AS POSSIBLE AND AS ALWAYS WE INVITE WIDOWS AND FAMILIES OF THOSE 311 ALUMNI WHO HAVE PASSED. THOSE MARINES IN THE AREA WHO WILL NOT BE ATTENDING ANY OF THE FUNCTIONS AND WILL BE IN THE AREA WE INVITE YOU TO STOP IN AND SAY HELLO. WITH THE EXCEPTION OF THE U.S. COAST GUARD I THINK WE HAVE HAD VETERANS FROM ALL THE OTHER BRANCHES THAT HAVE ATTENDED OUR REUNIONS ONE TIME OR ANOTHER AND THEY ARE MORE THAN WELCOME.
OUR AUCTIONS HAVE BEEN A GREAT SUCCESS ON FRIDAY NIGHTS AND HAVE BEEN THE MAJOR SOURCE OF OUR INCOME NEEDED TO KEEP US AFLOAT. NOT ONLY THAT, WE HAVE BEEN ABLE TO SEND SOME SUPPORT TO THE VMA-311 FAMILY ASSISTANCE GROUP OUT IN YUMA. WE HAD MADE SOME OTHER DONATIONS EARLY ON BUT IT SEEMED AS THOUGH VMA-311 IS OUR ALMA MATER WE WOULD DO WHAT WE CAN TO SUPPORT THE SQUADRON. BRING SOMETHING TO THE AUCTION AND TAKE SOMETHING HOME WITH YOU.
WE LUMPED TOGETHER THE HOSPITALITY ROOM FOOD, BANQUET FOOD AND AUCTION FOOD INTO ONE PRICE. A $45.00 BUFFET WOULD SEEM A MIGHT PRICEY AND WE NEEDED TO CLARIFY THAT. THERE WILL BE MORE THAN ENOUGH TO EAT FOR EVERYONE.
WITH THAT, WE HOPE YOU WILL ENJOY THE REUNION WITH US AS WE HAVE ENDEAVORED TO MAKE THE EVENT AS PLEASURABLE WITH LEAST AMOUNT OF EXPENSE. SEE YOU IN CHATTANOOGA!!
TAPS
CALDAS, JOHN LOUISIANA 2014, PILOT, VIETNAM
DOUGHERTY, DON WHITEHALL, PA, 2017, VMF-311 1952-53, K-3, HYDRAULICS
KING, JACK ALEXANDRIA, VA, 2017, 1951, KOREA, PILOT
KUROCIK, MILT VIETNAM
URBAN, KEN E. DURHAM, NY, 2017, VIETNAM
NAMES WILL BE READ AT THE MEMORIAL SERVICE IN CHATTANOOGA.
LOST IN THE MAIL
ANTON, ROBERT MUNDALIEN, IL
FAVELA, AL SAN DIEGO, CA
KYLER, CHRIS MERIDIAN, MS
TRANT, MIKE DALLAS, TX
SAVAGE, MILLARD WAUWATOSA, WI
NEW ALUMNI
DAVIS, LARRY PO BOX 2375, BLAIRSVILLE, GA 30514
ldavis5547@yahoo.com
1966 CHU LAI, SEAT SHOP
ROEDER, SCOTT 822 WOOD CREEK DR., HUBERT, SC 28539
252-902-8812, scottandbarbararoeder@vol.com
1978-79, IWAKUNI, FLIGHT EQUIPMENT
ADDRESS CHANGES
BUZZ ANGELI 4625 PONSEROSA TRAIL, ROXBOROUGH, CO 80125
LOU CORNISH 4203 ROSEDALE ST., NW, UNIT 27B, GIG HARBOR, WA 98335-0007
THOMAS DOUGHERTY 2020 MAYWOOD ST., EASTON, PA 18045
KEN MENCH 710 DAVID LANE, COLLINSVILLE, TX 76233
GREG STEVENSON 1104 VENTURA HILLS ST., LAS VEGAS, NV 89144
AIME YOCCA 14442 MAGNOLIA RIDGE LOOP, WINTER GARDEN, FL 34787
MARTY WINSTON 3675 N. COUNTRY CLUB DR., APT 409, AVENTURA, FL 33180
ADDRESS AND EMAIL CHANGES
PAUL BRAUCKMAN paulbrauckman2@gmail.com 805-300-2768
RICHARD ELKINS richardelkins2012@gmail.com
LONNIE CALLAZO av8ts@yahoo.com
TOM JOHNSON scjohnson1938@gmail.com
JOHN KEENAN jpkeenan@verizon.net
DICK LEBER 503-539-6876
GREG STEVENSON Gastvnsn@aol.com 707-888-1431
KEN MENTCH GPK2017@yahoo.com
MARTY WINSTON martinwinston@bellsouth.net
EMAILS AND SCOOP FROM THE TROOPS
JACK PAGE (70-71) GADSDEN, AL: "THE PICTURE POSTED IN THE NEWSLETTER TOOK PLACE AT DA NANG AB. I DON'T RECOGNIZE THE PILOTS BUT I DO REMEMBER THE OCCASION. THE SQUADRON HAD JUST SET THE RECORD FOR THE MOST FIXED WING SORTIES OF ANY SQUADRON IN THE RVN. THAT INCLUDES ALL BRANCHES. IT WAS ALSO THE DAY I RECEIVED MY STATE FLAG FROM GOV. GEORGE WALLACE."
JOHN KENAN (67-68) MUCKWONAGO, WI: "I SAW IN THE DECEMBER ISSUE THAT YOU WERE LOOKING FOR CONFIRMATION ON KIM SUTTON. HE DID SERVE WITH US IN CHU LAI IN AVIONICS DURING THE 67-68 TIME FRAME. I DON'T KNOW THE EXACT DATES BUT I RECALL HIM AS A VERY GOOD TECH AND A GOOD MARINE." (EDITORS NOTE: WHEN I COPIED THE LETTER FROM KIM'S WIFE I FAILED TO GET THE EMAIL ADDRESS TO REPLY. ALL THAT COME UP WAS A NAME. I GOOGLED KIM SUTTON AND COME UP WITH NOT MUCH OF ANYTHING. MAYBE SHE WILL GO BACK TO THIS WEB SITE AND CHECK IN.)
BOB URBAN, EAST DURHAM, NY: " I AM THE BROTHER OF KEN URBAN WHO PASSED AWAY THIS WEEK (15 DEC 2017). SOMETHING YOU MIGHT FIND INTERESTING. I WAS IN THE U.M.C.J OUTFITS FOR FOUR YEARS. WE TOOK PHOTOS AND MARKED RADAR AND SAM SITES AT NIGHT (64-65). THEY LET US GET OUT OF DA NANG BECAUSE WE TOOK OUT THE MAGNETIC MINES IN HAIPHONG HARBOR. THEY DID THIS WITH LONG S/S CABLES DRAGING METAL CULVERT PIPES IN THE HARBOR TO BLOW UP THE MINES. SEAL TEAMS PUT MINES IN THE HARBOR AND THEY HAD TO OFF LOAD SUPPLIES OUTSIDE THE HARBOR ON WOODEN BOATS TO BRING IN. A GUY IN MY OUTFIT WAS INVOLVED IN DOING THIS."
VMF/VMA/VMFA-211 WILL HOLD THEIR REUNION APRIL 11-14 IN TUCSON, ARIZONA. WE GOT SOME 211 GUYS ON THE ROSTER WHO MIGHT WANT TO GO TO THAT. PHONE BRUCE HARTON 810-588-6303 IF YOU WANT MORE INFO ON THAT. ALSO NOTED IN THEIR LAST NEWSLETTER THE 211 HAS BEEN GIVEN THE DESIGNATION AS "MARINE FIGHTER ATTACK" VMFA-211.
IRENE DUHEME, COLUMBIA, SC: "PLEASE ACCEPT THE ENCLOSED CHECK IN MEMORY OF DONALD DOUGHERTY, A MEMBER OF YOUR ORGANIZATION, WHO DIED ON 15 DECEMBER 2017. DONATIONS WERE MADE BY MR. AND MRS. SHELL, MS. IRENE DUHEME, MS. DENISE TOWNSEL, MR. AND MRS. PLACID DUHEME, MR. AND MRS. CURTIS DUHEME AND MR. AND MRS. THOMAS KAHALY. THANK YOU." (EDITORS NOTE: TOM AND MARGE DOUGHERTY AND FAMILY WERE ALL REGULARS AT OUR REUNIONS. WE WILL MISS HIM. HE WAS A GOOD MARINE AND FOR MY PART, MY FRIEND.)
DONATIONS
GREG STEVENSON (78-79), LAS VEGAS, NV; JIM KOTMEL (67-68) MAPLE HEIGHTS, OH; AND GEORGE SCHRIENER (52-53) ROSCOE, IL. THANKS MARINES FOR YOUR GENEROSITY!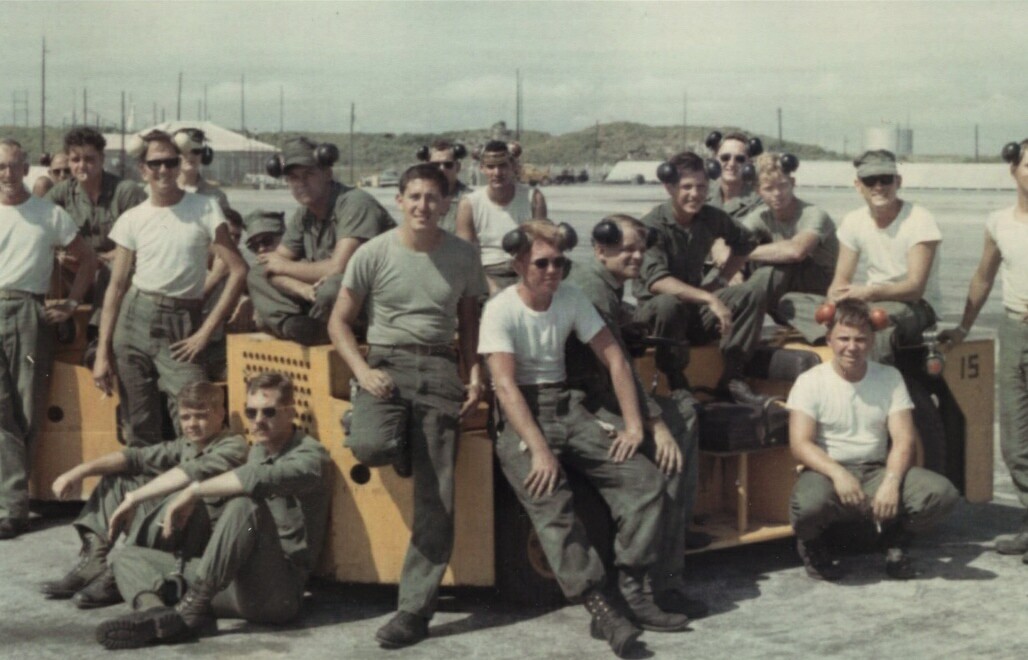 FLIGHT LINE CREW CIRCA 1967-68. SOME OF THE CREW DOWN FRONT MIKE FIELDS, RAY LUNA, WILLY WILSON, JACK BROWN, PETE GAUGHENBAUGH, HAL MICHAELS(?), INJUN COLBY(?) STEPNOWSKI(?) IN OKINAWA.
WRAPPING THINGS UP
THERE WILL BE ONE MORE NEWSLETTER OUT BEFORE THE REUNION AND WE CAN CLARIFY ANY PROBLEMS OR TIE UP ANY LOOSE ENDS. REMEMBER TO MAKE YOUR HOTEL RESERVATIONS WHEN YOU SEND ME YOUR REUNION REGISTRATION. I WILL BE CROSS CHECKING EACH MONTH TO SEE IF WE HAVE THE SAME PEOPLE ACCOUNTED. AS IN THE PAST WE HAVE HELD A MEMORIAL SERVICE BEFORE THE BANQUET IN HONOR OF THE 311 MARINES THAT HAVE PASSED. IF YOU KNOW OF ANYONE WHO WE HAVEN'T MENTIONED IN THE NEWSLETTERS GET THEM TO US BEFORE THE BANQUET SO WE CAN READ THEIR NAME.
FOR THE ALUMNI ASSOCIATION
JIM GALCHICK
DATELINE: DA NANG OCTOBER 1969; ALTHOUGH THE COMBAT REQUIREMENTS KEPT THE TOMCAT WORKING LONG HOURS TO KEEP THE SKYHAWKS READY, THE MEN CONTINUED TO SUPPORT THE CIVIC ACTION PROGRAM. THEY PRESENTED A CHECK FOR $1200.00 COLLECTED FROM THE UNIT TO THE VIETNAMESE CHILDREN'S SCHOLARSHIP FUND TO ASSIST NEEDY CHILDREN IN RECEIVING AN EDUCATION.
DATELINE: DA NANG APRIL 1970: ON 11 APRIL WHILE ATTACKING AN ENEMY BASE ABOUT 10 MILES WEST OF DA NANG, 1ST LT JAN H. NELSON WAS KILLED. HIS AIRCRAFT WAS SEEN DIVING ON A TARGET, BUT INSTEAD OF PULLING UP, THE JET CONTINUED DOWN BEHIND A RIDGE-LINE. A MOMENT LATER, A LARGE FIREBALL APPEARED MARKING THE JETS POINT OF IMPACT.
TOMCAT AIR…ON TIME…ON TARGET
*****************************************************************************************

REGISTRATION
VMF/VMA-311 ALUMNI ASSOCIATION
REUNION 22-26 AUGUST 2018
HOLIDAY INN AND SUITES DOWNTOWN CHATTANOOGA, TN
HOTEL RESERVATIONS: 423-777-5858 CODE: VM311
REGISTRATION SIGN UP FEE: $10.00 X _____ TOTAL_____
CHATTANOOGA CITY TOUR TO INCLUDE CITY TOUR, LUNCH AND CRUISE ON THE SOUTHERN BELLE RIVERBOAT, CHARLES H. COOLIDGE MEDAL OF HONOR MUSEUM AND CHATTANOOGA NATIONAL CEMETERY. $71.00 X _____ TOTAL_____
CHATTANOOGA AND CIVIL WAR TO INCLUDE INCLINE RAILWAY, BATTLES OF CHATTANOOGA, POINT PARK AND LUNCH AT ROCK CITY. $87.00 X _____ TOTAL _____
BANQUET SELECTION (all selections $45.00):
BEEF X _____ TOTAL _____
CHICKEN X _____ TOTAL _____
FISH X _____ TOTAL _____
*VEG X _____ TOTAL _____
TOTAL CHECK: _______
MAKE CHECKS PAYABLE TO: VMF/VMA-311 REUNION ASSOCIATION
DEADLINE FOR TOURS AND BANQUET IS 1 AUGUST 2018.
MAIL TO: JIM GALCHICK
1290 E. 12TH ST.
SALEM, OHIO 44460
ANY QUESTIONS AT ALL FEEL FREE TO CALL AT 330-337-9383 OR EMAIL AT: jgalchick@neo.rr.com
NAME_____________________________________________________
NAME______________________________________________________
NAME______________________________________________________
NAME______________________________________________________
DO YOU NEED PERMANENT NAME TAGS? _________________________
ADDRESS _____________________________________
______________________________________ PHONE: ________________
~~~~~~~~~~~~~~~~~~~~~~~~~~~~~~~~~~~~~~~~~~~~~~~~~~~~~~~~~~~~~~~~~~~~~~~~~~~~~~~~~~~~~~~~~~
VMF/VMA-311 REUNION 2018
22-26 AUGUST 2018
HOLIDAY INN AND SUITES
TOUR 23 AUGUST 2018:
SWEET MAGNOLIA TOUR BUS PICKS UP AT THE HOTEL AT 0900 WITH STEP-ON GUIDE. TOUR THE CITY OF CHATTANOOGA TO INCLUDE CHARLES H. COOLIDGE MEDAL OF HONOR MUSEUM, CHATTANOOGA NATIONAL CEMETERY AND CRUISE LUNCH ON THE SOUTHERN BELLE RIVERBOAT. BUS RETURNS TO HOTEL AT APPROXIMATELY 1500. COST PER PERSON IS $71.00 PER PERSON. GRATUITY FOR STEP-ON GUIDE NOT INCLUDED.
TOUR 24 AUGUST 2018:
SWEET MAGNOLIA TOURS WILL PICK UP AT THE HOTEL AT 0900 WITH STEP ON GUIDE. PROCEED TO INCLINE RAILWAY FOR A LIFT UP THE MOUNTAIN, BATTLES FOR CHATTANOOGA, POINT PARK WITH PARK RANGER GUIDE, PROCEED TO ROCK CITY FOR LUNCH. BUS RETURNS TO HOTEL AT APPROXIMATELY 1500.
AUCTION NIGHT 24 AUGUST 2018:
OUR FUNDRAISER AUCTION WILL START AT APPROXIMATELY 1900. ABOUT HALF WAY THROUGH WE'LL TAKE A BREAK AND HAVE A BITE TO EAT. THE RECEPTION WILL INCLUDE:
HONEY BAR-B-QUE CHICKEN WINGS WITH CELERY, RANCH AND BLUE CHEESE DIPPING SAUCES
LAYERED TEX-MEX DIP (RICE, MEAT, BEANS, MEXICORN, LETTUCE, JALAPENOS. OLIVES, SOUR CREAM, SERVED WITH SALSA AND CHIPS) CHARCUTERIE OF CHEESE, SAUSAGES, HAM, SALAMI, ETC., OLIVES, PEPPERS, MUSTARD, CRACKERS AND FLATBREAD, ASSORTED FRESH SEASONAL FRUIT
BUSINESS MEETING 0900 SATURDAY IN HOSPITALITY ROOM
BUFFET BANQUET SATURDAY NIGHT 25 AUGUST 2018:
WE'LL KICK OFF THE BANQUET AT 1800 AND START EATING AT THE COMPLETION OF OUR MEMORIAL SERVICE.
INCLUDED IN THE BUFFET AS FOLLOWS:
OVEN BAKED CHICKEN
SMASHED RED SKIN POTATOES
BEEF STOGANOFF WITH EGG NOODLES
PEACH BOUBON GLAZED SALMON
SEASONED RICE
FRESH STEAMED GREEN BEANS
FRESH STEAMED VEGETABLES (BROCOLLI, CARROTS, CAULIFLOWER)
ROLLS AND BUTTER
TEA, LEMONADE, WATER
CARROT CAKE WITH CREAM CHEESE ICING
CHOCOLATE CAKE
GIVEN THE AGE OF OUR GROUP WE TRIED TO LINE UP THE TOURS WITH MINIMAL AMOUNT OF WALKING. SHOULD YOU NEED A WHEELCHAIR CONTACT US SO WE CAN ARRANGE FOR YOU TO HAVE ONE. THE INCLINE STOPS A SHORT DISTANCE FROM THE PARK MUSEUM. THE BUS WILL BE AT THE TOP OF THE INCLINE TO TAKE ANYONE FROM THE INCLINE TO THE TOP OF THE MOUNTAIN THAT MAY HAVE SOME AMBULATORY PROBLEMS.
IF YOU HAVE SPECIAL DIETARY NEEDS LET US KNOW. SELECT FROM THE BANQUET BUFFET YOUR CHOICE OF THE THREE MEAT ENTREES SO WE CAN TELL THE CATERER HOW MUCH OF EACH HE HAS TO PREPARE. THERE WILL BE LOTS OF SECONDS FOR THE HEARTY EATERS.
AUCTION NIGHT- BRING SOMETHING, BUY SOMETHING AND HAVE A GREAT TIME.
SEMPER FIDELIS