THE FIGHTIN' 311 TOMCATS
GEORGE AND JACKIE PHANDER JIM AND SUE GALCHICK CECIL AND CHRIS CHEEKA
3032 POTSHOP ROAD 1290 E. 12TH ST. 2207 LILAC ST. S.E.
NORRISTOWN, PA 19403 SALEM, OH 44460 LACEY, WA gphander46@comcast.net jgalchick@neo.rr.com ccheeka@comcast.net
610-584-5654 330-337-9383 360-352-7227
OFFICIAL WEB SITE: http://www.vmfvma311reunion.org
WEBMASTER:FRED TOWNSLEY

805 PRICE AVE, CHANDLER, OK 73834, 405-2580532

EMAIL: oldsargfred@gmail.com
MEMBERSHIP COMMITTEE CHAIRMAN: CHARLES "RALPHIE" REED
14 BRENTWOOD ROAD, KINGSTON, MA 02364 EMAIL: cread1@comcast.net
MARCH 2018 EDITION
***************************************************************************************************************
VMF/VMA-311 ALUMNI ASSOCIATION
REUNION 22-26 AUGUST 2018

CHATTANOOGA REUNION 2018
HOLIDAY INN AND SUITES
434 CHESTNUT ST.
CHATTANOOGA, TN
RESERVATIONS: 423-777-5858 GROUP CODE: VA311
ALL THE BAGS ARE PACKED AND WE'RE READY TO GO. WE'VE MAILED OUT THE REGISTRATIONS TO THOSE WHO WERE IN PENSACOLA AND TO THOSE WHO HAVE REQUESTED THEM. THIS NEWSLETTER WILL CONTAIN THE SAME INFO AND FRED TOWNSLEY WILL ADD IT TO THE WEB SITE (SEE WEB SITE CHANGE). WE'VE POSTED IN A NUMBER OF PERIODICALS SO WE COULD GET THE WORD OUT AND MAYBE ROUND UP A FEW NEW TOMCATS FOR THE FOLD.
THIS WILL MAKE 22 YEARS WE HAVE BEEN AT THE HELM AND WE KNOW THAT THERE ARE YOUNGER MARINES FROM 311 WHO MIGHT BE WILLING TO TAKE OVER THIS LEADERSHIP. IT'S BEEN A GREAT RUN AND WE ARE MORE THAN WILLING TO STEP DOWN AND MAKE WAY FOR SOME FRESH IDEAS. WE HAVE RUN THE GROUP A CERTAIN WAY BUT, WHOEVER WOULD TAKE OVER COULD MAKE IT THEIR OWN AND CHANGE THE FORMAT.
WHEN WE TOOK OVER WE KNEW NOTHING ABOUT HOW TO RUN A REUNION. THE INTERNET WAS GETTING BIG AT THE TIME AND IT WAS EASIER TO TRACK DOWN MARINES FROM 311 THAT SERVED FOR THE LAST 70 YEARS. WE WERE GIVEN A SHORT ROSTER OF WWII ERA, KOREAN WAR ERA AND A SMATTERING OF VIETNAM ERA MARINES. FROM THAT WE CONTACTED THOSE WHO WE KNEW AND THEY IN TURN CONTACTED SOMEONE THEY KNEW AND IT SNOWBALLED FROM THERE. WE ADDED THE WEB SITE AND NEWSLETTER. IF YOU'RE GOING TO HAVE SOMETHING YOU HAVE TO LET THE MULTITUDES KNOW IT'S THERE. WE MANAGED TO PUSH THE ROSTER UP TO ABOUT 400 AT ONE TIME. IT'S NOW JUST OVER 325 AND SHRINKING. REASON IS OBVIOUS…WE'RE GETTING OLD! TO STIMULATE THE ROSTER OUR MEMBERSHIP COMMITTEE HAS BE WORKING THROUGH "TOGETHER WE SERVED" AND OTHER PLACES TO ROUND UP SOME FRESH BLOOD AND GET THEM INVOLVED. IT'S A PROCESS IN ITSELF.
WE WOULD BE REMISS IF WE FAILED TO MENTION ALL THE GREAT HELP WE HAVE HAD OVER THE YEARS. PLANNING IS ONE THING, PULLING THINGS OFF IS ANOTHER. TO THE MARINES AND WIVES WHO CONTRIBUTE SO MUCH WE OWE A DEBT OF GRATITUDE. THROUGH THEM OUR GROUP CONTINUES TO PROSPER AND REMAIN INTACT.
A LITTLE ABOUT THE BUS TOURS. SWEET MAGNOLIA TOURS CHARGES BY THE HEAD AND CAPACITY. THE PRICE QUOTED IN THE REGISTRATION IS BASED ON CAPACITY 36-54 PASSENGERS. LESS THAN 36 THE PRICE GOES UP $13.00 AND MORE THAN 54 THE PRICE GOES UP $10.00. WE SEEM TO BE ABLE TO FILL UP ONE BUS FOR SURE. IF NEEDED AND WE GO OVER ONE BUS LOAD WE ARE GOING TO HAVE TO COLLECT SOME EXTRA MONEY REUNION TIME. IS WHAT IT IS.
2. WE SCHEDULED THE REUNION A LITTLE EARLIER THAN WE NORMALLY DO. WEATHER SHOULD BE GREAT BARRING FLOODS, HURRICANES AND FREAK SNOW STORMS. THIS REUNION IS A COUPLE WEEKS BEFORE SCHOOL STARTS IN A LOT OF PLACES AND IT MAY GIVE THE YOUNGER MARINES WITH FAMILIES A CHANCE TO VACATION IN CHATTANOOGA. WE TRY TO BE AS FAMILY ORIENTED AS POSSIBLE AND AS ALWAYS WE INVITE WIDOWS AND FAMILIES OF THOSE 311 ALUMNI WHO HAVE PASSED. THOSE MARINES IN THE AREA WHO WILL NOT BE ATTENDING ANY OF THE FUNCTIONS AND WILL BE IN THE AREA WE INVITE YOU TO STOP IN AND SAY HELLO. WITH THE EXCEPTION OF THE U.S. COAST GUARD I THINK WE HAVE HAD VETERANS FROM ALL THE OTHER BRANCHES THAT HAVE ATTENDED OUR REUNIONS ONE TIME OR ANOTHER AND THEY ARE MORE THAN WELCOME.
OUR AUCTIONS HAVE BEEN A GREAT SUCCESS ON FRIDAY NIGHTS AND HAVE BEEN THE MAJOR SOURCE OF OUR INCOME NEEDED TO KEEP US AFLOAT. NOT ONLY THAT, WE HAVE BEEN ABLE TO SEND SOME SUPPORT TO THE VMA-311 FAMILY ASSISTANCE GROUP OUT IN YUMA. WE HAD MADE SOME OTHER DONATIONS EARLY ON BUT IT SEEMED AS THOUGH VMA-311 IS OUR ALMA MATER WE WOULD DO WHAT WE CAN TO SUPPORT THE SQUADRON. BRING SOMETHING TO THE AUCTION AND TAKE SOMETHING HOME WITH YOU.
WE LUMPED TOGETHER THE HOSPITALITY ROOM FOOD, BANQUET FOOD AND AUCTION FOOD INTO ONE PRICE. A $45.00 BUFFET WOULD SEEM A MIGHT PRICEY AND WE NEEDED TO CLARIFY THAT. THERE WILL BE MORE THAN ENOUGH TO EAT FOR EVERYONE.
WITH THAT, WE HOPE YOU WILL ENJOY THE REUNION WITH US AS WE HAVE ENDEAVORED TO MAKE THE EVENT AS PLEASURABLE WITH LEAST AMOUNT OF EXPENSE. SEE YOU IN CHATTANOOGA!!
TAPS
CALDAS, JOHN LOUISIANA 2014, PILOT, VIETNAM
DOUGHERTY, DON WHITEHALL, PA, 2017, VMF-311 1952-53, K-3, HYDRAULICS
KING, JACK ALEXANDRIA, VA, 2017, 1951, KOREA, PILOT
KUROCIK, MILT VIETNAM
URBAN, KEN E. DURHAM, NY, 2017, VIETNAM
NAMES WILL BE READ AT THE MEMORIAL SERVICE IN CHATTANOOGA.
LOST IN THE MAIL
ANTON, ROBERT MUNDALIEN, IL
FAVELA, AL SAN DIEGO, CA
KYLER, CHRIS MERIDIAN, MS
TRANT, MIKE DALLAS, TX
SAVAGE, MILLARD WAUWATOSA, WI
NEW ALUMNI
DAVIS, LARRY PO BOX 2375, BLAIRSVILLE, GA 30514
ldavis5547@yahoo.com
1966 CHU LAI, SEAT SHOP
ROEDER, SCOTT 822 WOOD CREEK DR., HUBERT, SC 28539
252-902-8812, scottandbarbararoeder@vol.com
1978-79, IWAKUNI, FLIGHT EQUIPMENT
ADDRESS CHANGES
BUZZ ANGELI 4625 PONSEROSA TRAIL, ROXBOROUGH, CO 80125
LOU CORNISH 4203 ROSEDALE ST., NW, UNIT 27B, GIG HARBOR, WA 98335-0007
THOMAS DOUGHERTY 2020 MAYWOOD ST., EASTON, PA 18045
KEN MENCH 710 DAVID LANE, COLLINSVILLE, TX 76233
GREG STEVENSON 1104 VENTURA HILLS ST., LAS VEGAS, NV 89144
AIME YOCCA 14442 MAGNOLIA RIDGE LOOP, WINTER GARDEN, FL 34787
MARTY WINSTON 3675 N. COUNTRY CLUB DR., APT 409, AVENTURA, FL 33180
ADDRESS AND EMAIL CHANGES
PAUL BRAUCKMAN paulbrauckman2@gmail.com 805-300-2768
RICHARD ELKINS richardelkins2012@gmail.com
LONNIE CALLAZO av8ts@yahoo.com
TOM JOHNSON scjohnson1938@gmail.com
JOHN KEENAN jpkeenan@verizon.net
DICK LEBER 503-539-6876
GREG STEVENSON Gastvnsn@aol.com 707-888-1431
KEN MENTCH GPK2017@yahoo.com
MARTY WINSTON martinwinston@bellsouth.net
EMAILS AND SCOOP FROM THE TROOPS
JACK PAGE (70-71) GADSDEN, AL: "THE PICTURE POSTED IN THE NEWSLETTER TOOK PLACE AT DA NANG AB. I DON'T RECOGNIZE THE PILOTS BUT I DO REMEMBER THE OCCASION. THE SQUADRON HAD JUST SET THE RECORD FOR THE MOST FIXED WING SORTIES OF ANY SQUADRON IN THE RVN. THAT INCLUDES ALL BRANCHES. IT WAS ALSO THE DAY I RECEIVED MY STATE FLAG FROM GOV. GEORGE WALLACE."
JOHN KENAN (67-68) MUCKWONAGO, WI: "I SAW IN THE DECEMBER ISSUE THAT YOU WERE LOOKING FOR CONFIRMATION ON KIM SUTTON. HE DID SERVE WITH US IN CHU LAI IN AVIONICS DURING THE 67-68 TIME FRAME. I DON'T KNOW THE EXACT DATES BUT I RECALL HIM AS A VERY GOOD TECH AND A GOOD MARINE." (EDITORS NOTE: WHEN I COPIED THE LETTER FROM KIM'S WIFE I FAILED TO GET THE EMAIL ADDRESS TO REPLY. ALL THAT COME UP WAS A NAME. I GOOGLED KIM SUTTON AND COME UP WITH NOT MUCH OF ANYTHING. MAYBE SHE WILL GO BACK TO THIS WEB SITE AND CHECK IN.)
BOB URBAN, EAST DURHAM, NY: " I AM THE BROTHER OF KEN URBAN WHO PASSED AWAY THIS WEEK (15 DEC 2017). SOMETHING YOU MIGHT FIND INTERESTING. I WAS IN THE U.M.C.J OUTFITS FOR FOUR YEARS. WE TOOK PHOTOS AND MARKED RADAR AND SAM SITES AT NIGHT (64-65). THEY LET US GET OUT OF DA NANG BECAUSE WE TOOK OUT THE MAGNETIC MINES IN HAIPHONG HARBOR. THEY DID THIS WITH LONG S/S CABLES DRAGING METAL CULVERT PIPES IN THE HARBOR TO BLOW UP THE MINES. SEAL TEAMS PUT MINES IN THE HARBOR AND THEY HAD TO OFF LOAD SUPPLIES OUTSIDE THE HARBOR ON WOODEN BOATS TO BRING IN. A GUY IN MY OUTFIT WAS INVOLVED IN DOING THIS."
VMF/VMA/VMFA-211 WILL HOLD THEIR REUNION APRIL 11-14 IN TUCSON, ARIZONA. WE GOT SOME 211 GUYS ON THE ROSTER WHO MIGHT WANT TO GO TO THAT. PHONE BRUCE HARTON 810-588-6303 IF YOU WANT MORE INFO ON THAT. ALSO NOTED IN THEIR LAST NEWSLETTER THE 211 HAS BEEN GIVEN THE DESIGNATION AS "MARINE FIGHTER ATTACK" VMFA-211.
IRENE DUHEME, COLUMBIA, SC: "PLEASE ACCEPT THE ENCLOSED CHECK IN MEMORY OF DONALD DOUGHERTY, A MEMBER OF YOUR ORGANIZATION, WHO DIED ON 15 DECEMBER 2017. DONATIONS WERE MADE BY MR. AND MRS. SHELL, MS. IRENE DUHEME, MS. DENISE TOWNSEL, MR. AND MRS. PLACID DUHEME, MR. AND MRS. CURTIS DUHEME AND MR. AND MRS. THOMAS KAHALY. THANK YOU." (EDITORS NOTE: TOM AND MARGE DOUGHERTY AND FAMILY WERE ALL REGULARS AT OUR REUNIONS. WE WILL MISS HIM. HE WAS A GOOD MARINE AND FOR MY PART, MY FRIEND.)
DONATIONS
GREG STEVENSON (78-79), LAS VEGAS, NV; JIM KOTMEL (67-68) MAPLE HEIGHTS, OH; AND GEORGE SCHRIENER (52-53) ROSCOE, IL. THANKS MARINES FOR YOUR GENEROSITY!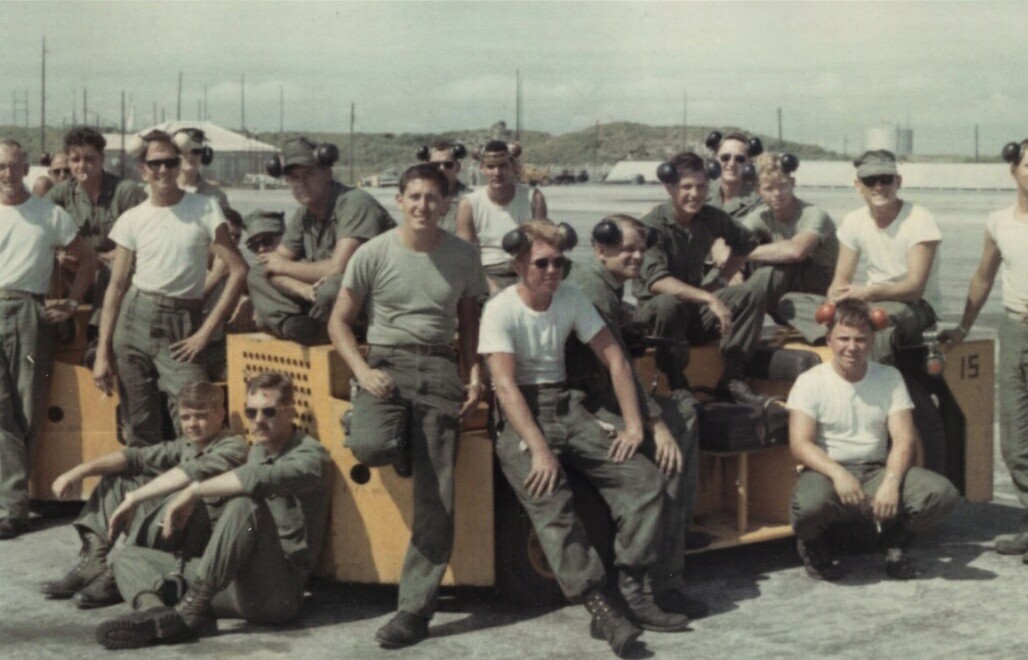 FLIGHT LINE CREW CIRCA 1967-68. SOME OF THE CREW DOWN FRONT MIKE FIELDS, RAY LUNA, WILLY WILSON, JACK BROWN, PETE GAUGHENBAUGH, HAL MICHAELS(?), INJUN COLBY(?) STEPNOWSKI(?) IN OKINAWA.
WRAPPING THINGS UP
THERE WILL BE ONE MORE NEWSLETTER OUT BEFORE THE REUNION AND WE CAN CLARIFY ANY PROBLEMS OR TIE UP ANY LOOSE ENDS. REMEMBER TO MAKE YOUR HOTEL RESERVATIONS WHEN YOU SEND ME YOUR REUNION REGISTRATION. I WILL BE CROSS CHECKING EACH MONTH TO SEE IF WE HAVE THE SAME PEOPLE ACCOUNTED. AS IN THE PAST WE HAVE HELD A MEMORIAL SERVICE BEFORE THE BANQUET IN HONOR OF THE 311 MARINES THAT HAVE PASSED. IF YOU KNOW OF ANYONE WHO WE HAVEN'T MENTIONED IN THE NEWSLETTERS GET THEM TO US BEFORE THE BANQUET SO WE CAN READ THEIR NAME.
FOR THE ALUMNI ASSOCIATION
JIM GALCHICK
DATELINE: DA NANG OCTOBER 1969; ALTHOUGH THE COMBAT REQUIREMENTS KEPT THE TOMCAT WORKING LONG HOURS TO KEEP THE SKYHAWKS READY, THE MEN CONTINUED TO SUPPORT THE CIVIC ACTION PROGRAM. THEY PRESENTED A CHECK FOR $1200.00 COLLECTED FROM THE UNIT TO THE VIETNAMESE CHILDREN'S SCHOLARSHIP FUND TO ASSIST NEEDY CHILDREN IN RECEIVING AN EDUCATION.
DATELINE: DA NANG APRIL 1970: ON 11 APRIL WHILE ATTACKING AN ENEMY BASE ABOUT 10 MILES WEST OF DA NANG, 1ST LT JAN H. NELSON WAS KILLED. HIS AIRCRAFT WAS SEEN DIVING ON A TARGET, BUT INSTEAD OF PULLING UP, THE JET CONTINUED DOWN BEHIND A RIDGE-LINE. A MOMENT LATER, A LARGE FIREBALL APPEARED MARKING THE JETS POINT OF IMPACT.
TOMCAT AIR…ON TIME…ON TARGET
*****************************************************************************************

REGISTRATION
VMF/VMA-311 ALUMNI ASSOCIATION
REUNION 22-26 AUGUST 2018
HOLIDAY INN AND SUITES DOWNTOWN CHATTANOOGA, TN
HOTEL RESERVATIONS: 423-777-5858 CODE: VM311
REGISTRATION SIGN UP FEE: $10.00 X _____ TOTAL_____
CHATTANOOGA CITY TOUR TO INCLUDE CITY TOUR, LUNCH AND CRUISE ON THE SOUTHERN BELLE RIVERBOAT, CHARLES H. COOLIDGE MEDAL OF HONOR MUSEUM AND CHATTANOOGA NATIONAL CEMETERY. $71.00 X _____ TOTAL_____
CHATTANOOGA AND CIVIL WAR TO INCLUDE INCLINE RAILWAY, BATTLES OF CHATTANOOGA, POINT PARK AND LUNCH AT ROCK CITY. $87.00 X _____ TOTAL _____
BANQUET SELECTION (all selections $45.00):
BEEF X _____ TOTAL _____
CHICKEN X _____ TOTAL _____
FISH X _____ TOTAL _____
*VEG X _____ TOTAL _____
TOTAL CHECK: _______
MAKE CHECKS PAYABLE TO: VMF/VMA-311 REUNION ASSOCIATION
DEADLINE FOR TOURS AND BANQUET IS 1 AUGUST 2018.
MAIL TO: JIM GALCHICK
1290 E. 12TH ST.
SALEM, OHIO 44460
ANY QUESTIONS AT ALL FEEL FREE TO CALL AT 330-337-9383 OR EMAIL AT: jgalchick@neo.rr.com
NAME_____________________________________________________
NAME______________________________________________________
NAME______________________________________________________
NAME______________________________________________________
DO YOU NEED PERMANENT NAME TAGS? _________________________
ADDRESS _____________________________________
______________________________________ PHONE: ________________
~~~~~~~~~~~~~~~~~~~~~~~~~~~~~~~~~~~~~~~~~~~~~~~~~~~~~~~~~~~~~~~~~~~~~~~~~~~~~~~~~~~~~~~~~~
VMF/VMA-311 REUNION 2018
22-26 AUGUST 2018
HOLIDAY INN AND SUITES
TOUR 23 AUGUST 2018:
SWEET MAGNOLIA TOUR BUS PICKS UP AT THE HOTEL AT 0900 WITH STEP-ON GUIDE. TOUR THE CITY OF CHATTANOOGA TO INCLUDE CHARLES H. COOLIDGE MEDAL OF HONOR MUSEUM, CHATTANOOGA NATIONAL CEMETERY AND CRUISE LUNCH ON THE SOUTHERN BELLE RIVERBOAT. BUS RETURNS TO HOTEL AT APPROXIMATELY 1500. COST PER PERSON IS $71.00 PER PERSON. GRATUITY FOR STEP-ON GUIDE NOT INCLUDED.
TOUR 24 AUGUST 2018:
SWEET MAGNOLIA TOURS WILL PICK UP AT THE HOTEL AT 0900 WITH STEP ON GUIDE. PROCEED TO INCLINE RAILWAY FOR A LIFT UP THE MOUNTAIN, BATTLES FOR CHATTANOOGA, POINT PARK WITH PARK RANGER GUIDE, PROCEED TO ROCK CITY FOR LUNCH. BUS RETURNS TO HOTEL AT APPROXIMATELY 1500.
AUCTION NIGHT 24 AUGUST 2018:
OUR FUNDRAISER AUCTION WILL START AT APPROXIMATELY 1900. ABOUT HALF WAY THROUGH WE'LL TAKE A BREAK AND HAVE A BITE TO EAT. THE RECEPTION WILL INCLUDE:
HONEY BAR-B-QUE CHICKEN WINGS WITH CELERY, RANCH AND BLUE CHEESE DIPPING SAUCES
LAYERED TEX-MEX DIP (RICE, MEAT, BEANS, MEXICORN, LETTUCE, JALAPENOS. OLIVES, SOUR CREAM, SERVED WITH SALSA AND CHIPS) CHARCUTERIE OF CHEESE, SAUSAGES, HAM, SALAMI, ETC., OLIVES, PEPPERS, MUSTARD, CRACKERS AND FLATBREAD, ASSORTED FRESH SEASONAL FRUIT
BUSINESS MEETING 0900 SATURDAY IN HOSPITALITY ROOM
BUFFET BANQUET SATURDAY NIGHT 25 AUGUST 2018:
WE'LL KICK OFF THE BANQUET AT 1800 AND START EATING AT THE COMPLETION OF OUR MEMORIAL SERVICE.
INCLUDED IN THE BUFFET AS FOLLOWS:
OVEN BAKED CHICKEN
SMASHED RED SKIN POTATOES
BEEF STOGANOFF WITH EGG NOODLES
PEACH BOUBON GLAZED SALMON
SEASONED RICE
FRESH STEAMED GREEN BEANS
FRESH STEAMED VEGETABLES (BROCOLLI, CARROTS, CAULIFLOWER)
ROLLS AND BUTTER
TEA, LEMONADE, WATER
CARROT CAKE WITH CREAM CHEESE ICING
CHOCOLATE CAKE
GIVEN THE AGE OF OUR GROUP WE TRIED TO LINE UP THE TOURS WITH MINIMAL AMOUNT OF WALKING. SHOULD YOU NEED A WHEELCHAIR CONTACT US SO WE CAN ARRANGE FOR YOU TO HAVE ONE. THE INCLINE STOPS A SHORT DISTANCE FROM THE PARK MUSEUM. THE BUS WILL BE AT THE TOP OF THE INCLINE TO TAKE ANYONE FROM THE INCLINE TO THE TOP OF THE MOUNTAIN THAT MAY HAVE SOME AMBULATORY PROBLEMS.
IF YOU HAVE SPECIAL DIETARY NEEDS LET US KNOW. SELECT FROM THE BANQUET BUFFET YOUR CHOICE OF THE THREE MEAT ENTREES SO WE CAN TELL THE CATERER HOW MUCH OF EACH HE HAS TO PREPARE. THERE WILL BE LOTS OF SECONDS FOR THE HEARTY EATERS.
AUCTION NIGHT- BRING SOMETHING, BUY SOMETHING AND HAVE A GREAT TIME.
SEMPER FIDELIS